Toddlers Together – We're back!
Show all blogs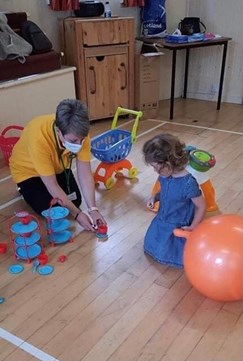 We missed the families who came along to Toddlers Together so much and although we engaged as much as we could via music videos, activity packs and play ideas– our main goal before the end of Summer 2021 was to get back to the hall we love at the Hawick Congregational Church, bringing laughter, socialisation and fun back to a much attended Reaching Out group once again. 
Stephanie (Play Coordinator and Activity programme planner) Brenda (Play Coordinator) and Val (Community Befriender) who facilitate and deliver Toddlers Together thrived to do all they could to ensure that we were planning for every eventuality to make sure families and all other hall users would be safe when we re-opened again. 
Stephanie and Brenda developed a detailed Risk Assessment to cover all avenues of risk to ourselves and our service users, we also looked at individual activities such as crafts and hall games, creating mini risk assessments, along with health and safety posters and our booking process plan were all approved by our Board of Management members before proceeding to open.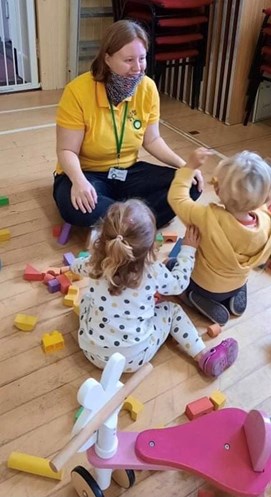 It was finally our first day back and with our new yellow uniforms and hidden smiles under our face masks, we were ready to go! 
We set up the hall so that each family had their mat to play with the smaller toys and all the bigger toys were in the middle to encourage the children to play together. The key was the adults had to keep 2 metres apart and wear their face covering when moving around the hall away from their matted area. 
We were all used to our one usual long two and half hour session, however, to make sure we were keeping numbers down to allow for social distancing we split the group into two, one-hour sessions with a deep clean in the middle.
All families who were hoping to attend needed to book via our new Toddlers Together email which Stephanie and Brenda 'manned'. Our first two sessions were fully booked and it was wonderful to see the hall occupied again with children busy exploring, collecting, and investigating the toys, some of which were brand new and a wonderful new kitchen that Brenda and Stephanie proudly build themselves the week before was being well used. 
It was wonderful to meet some new families and to see those again who came to the group before March 2020, with new additions. We are concentrating on free play and socialisation for the Toddlers at the moment but hope to add more activities once again going forward. Families enjoyed being back and embraced the changes that we had to adhere to, allowing us to re-open. 
There was a sense of nerves, excitement, anxiety, and joy around the hall for everyone; we were nervous as to how the families would feel about the very different layout and changes to the group but we're excited to have the hall full again; parents reported they were keen to get the chance to speak to other parents and share experiences, and the children were excited to explore new things! 
Our group and others like ours are so important to children to build their confidence with others their age to learn and play in a safe environment.  Having time away from this kind of social group has been challenging for children and we could see that some were feeling worried and overwhelmed by being around new people in a new environment. 
Although at the beginning of the group sessions some of the children stayed close to their parents, reluctant to leave their sides, by the end of the session, we could see them coming out of their little shells. We are looking forward to watching and helping all the wee ones find their wings once they become more familiar with us and our giant playroom. 
Show all blogs