My Lockdown Baby
Parent, Mind Mosaic
Show all blogs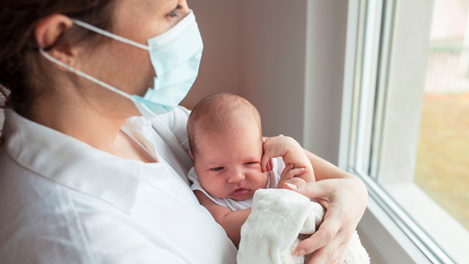 My husband and I waited so long to become parents. We found out in late 2019 that I was pregnant, and our lives changed forever, in more ways than 1!
We had an amazing pregnancy experience for the first 22 weeks! We found out the sex, got all our closest family and friends together for the reveal and celebrated together with drinks and dinner, the day couldn't have been any more perfect! … little did we know, that was our last day we would all be together like that!
Lockdown hit, and it hit hard! Unknown to me, my normal Friday at work was actually my last day of work until January 2021! - this was 20th March! My plan was to work until June 2020 to allow me to save for my maternity time, as I was self-employed. That was taken away from me in an instant.
I was put on early maternity leave with no baby. I was not entitled to any money until my baby was born which was 4 months away from then! Thank goodness my husband was still "allowed" to work!
Hospital appointments were hard and they were sad! I went in on my own whilst my husband (first-time dad) sat in the carpark! We had a few scans I had to attend on my own, I got the odd photograph printed to let dad see… but that's not the same.
2 days before my due date I suffered a small bleed during the night. I, again, attended the maternity unit at the hospital on my own, where I was put on a monitor for over an hour, scanned again and checked my baby's heartbeat, which was now measuring faster than they liked. This resulted in me seeing a consultant (alone) and scheduling me to be induced 48 hours later! Next thing I knew I was getting a membrane sweep to start the ball in motion. Not only was I taking all this in on my own, physically and mentally going through it on my own, but I also panicked and was thinking that my baby wasn't ready for all this intervention. My husband still sat out in the car park 3 hours later!!!
48 hours met us with no progression! Our local hospital no longer has a maternity unit so we needed to travel 22 miles to the next available one. I was booked in for 3 pm so my husband and I did a final check of the bags and car seat and made our way to the hospital.
I had never been to this hospital before and had never had to stay in a hospital before so this in itself was overwhelming. My husband helped me to the door with my bags and baby's bag. We were met by a security guard who told us my husband wasn't allowed in the doors to help me to my ward. The end result was I was left at the door with the bags and didn't know when I'd see my husband again. He sat in that carpark for 2 hours- "just in case".
Due to restrictions, my husband was not allowed into the hospital at all until I progressed to 4cm and was in "active" Labour. I arrived on Thursday afternoon and by Friday night I had 3 pessaries, a lot of pain and no progression, all alone and in my own room, extremely upset, scared and alone.
Late Friday night I was finally allowed to phone my husband to tell him to come up as I was being moved to Labour ward- finally!
After a lot of hormone drips, a LOT of pain and an emergency forceps delivery, our baby boy joined us, and 15 doctors into the theatre.
Daddy got to hold him 1st as I suffered a huge blood loss, but I was alert, excited and thankful that he was here! I was wheeled into recovery where I was kept on a monitor, I had a spinal so I couldn't walk or move from my waist down, but I got to cuddle my baby.
My husband was only allowed to stay for 3 hours after our son was born. We were then taken by lift to our ward and stopped at my husband's floor en route to leave. The doors were closing and I sat holding my baby with the same thoughts as before, "when will I see him again?".
I was in a big ward this time but gradually the other girls all left so it was just me and my baby. The spinal wore off and I was able to get up and walk a bit to pick my baby up and actually tend to him. Luckily, we got out at lunchtime the next day and the 3 of us were reunited.
Lockdown with a baby was hard! Not at all like I imagined my 1st journey into motherhood and we always said we would make every day count and make it the best we could. Our baby didn't know any different, but we did!
I'm from a children development background so we did a lot of sensory and fun activities most days and did a few classes online- again though wasn't the same! I missed other mums, I missed other people in general.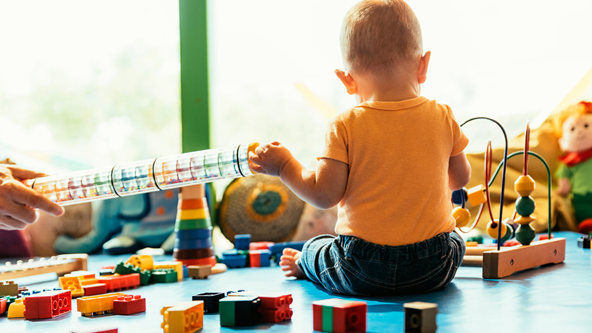 Wee Minds was advertised and I jumped at it! We were thrilled when told we had a space. We got the social distanced classes at the beginning, then a 2nd lockdown hit! As this was easing a bit more, we got more one to one sessions which I really appreciated as it provided continuity for not only my baby but also me!
Classes were slowly and carefully allowed to start again with limited other parents and babies and in all honesty, it's been a godsend. My now toddler loves coming! He experiences new activities and loves meeting new children, this was a worry for me as he was never around any children and I didn't know how he would react. I have no worries now; he interacts and engages and tries everything there is to offer. I'm thankful for other parents in my position also, as well as the amazing staff members! We get to chat and play. It feels safe, it feels relaxed and when I leave, I feel fulfilled! It's social interaction for us parents too!
The classes are happy and they are keeping my little one engaged the entire session and he is showing more confidence week by week showing his interests and interacting with other children, and adults too! It's one of our favourite classes and it came at a time we all felt at a loss! It really has made an impact on the scary year we have had into motherhood! I am extremely grateful.
Show all blogs