Mind Mosaic - Wee Minds
Show all blogs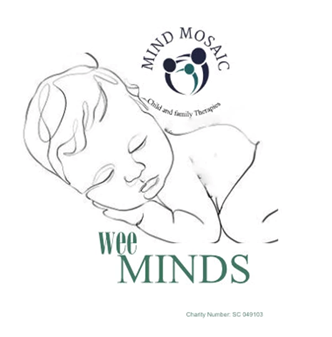 Funding has allowed us to introduce a new service, Wee Minds groups. These are parent and child attachment play sessions, providing mental health support to infants, toddlers and parents delivered by qualified Play Therapists, Theraplay practitioners and Family Workers.
The service includes attachment-based fun play sessions for baby and new parents to encourage healthy brain development and enhance parent-child relationships; early intervention play therapy services for mild/ medium and complex difficulty. Referrals include developmental trauma; parent/ infant attachment relationship difficulties; grief and loss; disabilities; domestic violence; parental addictions; sociocultural factors and other issues affecting the mental health and development of young children. Attachment-based training workshops for parents/ carers and professionals.
On emerging from the first lockdown and allowing us to return to working with groups in tier 2 of the lockdown, we were heartened with the response to the introduction of the Wee Minds groups which highlighted the need for this particular work and what we were offering. We were able to offer 6 small groups per week for mothers who had given birth to babies born during the lockdown. We have very large therapy rooms with separate entrances and exits giving space to social distance; each parent and child had their own play station and individual toy/play kits, and PPE was provided as per government guidelines and the requirements of our regulatory bodies.
During every session, each parent and child were given the opportunity of some free play time, which allowed the Play Therapist to observe and gain insights into the attachment relationship between parent and child. The Play Therapist demonstrated techniques and sensory play and was on hand to also speak to parent's individually and as a group to help explore the early development of the baby and to enhance the relationship between parent and child.
The Theraplay practitioner then trained parents in story massage which offers a fun and fully inclusive way of combining the creativity of story, song and rhyme with the benefits of positive touch. This promotes calmness, relaxation, well-being and bonding and can present opportunities for creative learning, interaction imagination and therapy all in one subject.
At the end of each session parent and child were then provided with the opportunity of quiet, relaxation time when the lights were turned down, sensory music played and soft sensory lights turned on to reflect on the ceiling. This helps both parent and child to manage their reactions to stress, anxiety and worry, reduces tension, and is a good distraction from worrying thoughts. As a kind touch, every mum was provided with a small card with a positive affirmation for the day and a small chocolate to enhance their confidence as parents and remind them that they are doing a great job.
The groups have been developed further with the introduction of messy play to our sessions, teaching parents that Playing with their child will, as attachment security increases, support the child's self-directed learning and curiosity. Messy play fosters curiosity, imagination and exploration; encourages communication and language development; practices good concentration and nurtures future skills; promotes physical development and supports the ability to play independently. The groups allowed the Play Therapist to identify parents and children who require individual play therapy services for mild/ medium and complex difficulty.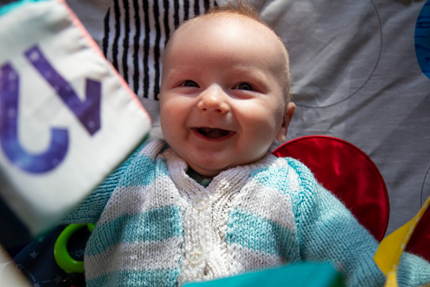 " Being pregnant was an emotional and physical struggle and I felt very isolated. It was a worrying time for me. My biggest worry was if my other half was going to be allowed in with me when the time came as he wasn't allowed to my 12-week scan however rules changed and he was able to attend my 20-week appointment. 
As the rules kept changing it caused a lot of anxiety for me. If I needed to attend triage (out of hours) at any point through my pregnancy I was hesitant about going alone as you don't know what you're going to be told and hearing any bad news I knew I wouldn't cope well emotionally. 
Being able to attend wee minds with my baby has allowed him to form friendships with other children of similar age and has enabled me to socialise with other parents within the group. The parents have then arranged to meet out with the group, with the children which has been lovely. It is great to watch them grow and develop in their own ways together.
Wee minds group has also provided lots of opportunities for my baby to explore and discover through different play for example sensory play with a broad range of touch and feely items, natural items baskets etc. There were also opportunities for messy play which has enhanced his confidence in exploring different textures which he has absolutely loved doing. As a parent, I recommend this group to friends with children of similar ages sometimes for the social aspect for us parents as well as the children. Within Inverclyde, groups like Wee Minds are very hard to come by and it's all the better that it's free as well. "
Show all blogs