International Mud Day 2021
By Lian Higgins
Show all blogs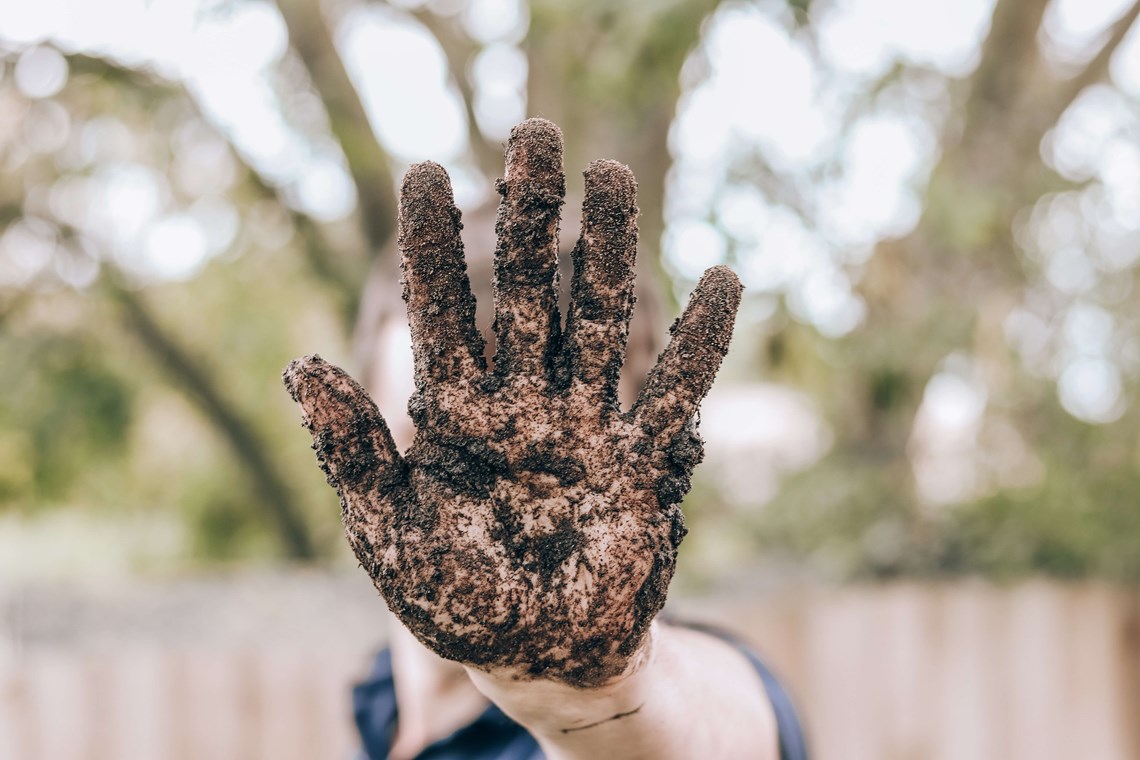 Mud.  I wonder when it was that I lost my fascination for it?  As an adult, I go well out of my way to avoid stepping in it, partly fearful of slipping, partly perturbed at the prospect of ruining clothes or footwear.  As a practitioner, I know I need to step on these feelings and remember the joy of a good old guddle.  So here is a little memory of mine, that I bring out into the sunshine whenever my adult brain minds about mud. 
The emphasis on outdoor learning continues to grow.  It is widely recognised that time spent in nature is good for us all, in terms of both our physical and mental well-being.  Yet how well do we facilitate outdoor play experiences? Do we really get it, the way our children do?  Or do we try to recreate indoor play experiences in the outdoors?   In a rather indistinct memory, in that I cannot remember how long ago or where or who, I vaguely recall being on a training course where the leader advocated taking glue sticks and cardboard outdoors to create "nature crowns" with leaves and feathers foraged from the forest floor.  On the same course, it was suggested that taking wool out to wrap around tree trunks as leg warmers were a fun occupation.  Yet this seemed to contradict another message (this one I am fairly sure was delivered at Murrayfield one January in-service day) where the speaker advocated that outdoor learning was not about taking learning outdoors, but rather place-responsive pedagogy.  And that has always stuck with me.  Depending on where we take our children, whether it be the shore or the forest, there will be natural artifacts to investigate and play with. 
 We are fortunate that our nursery is a short walk from a small local wildlife reserve, actually the smallest wildlife reserve under the auspices of the Scottish Wildlife Trust.  The garden at Johnston Terrace is gated and features a wildflower meadow, a pond, areas of hedgerow, and trees including silver birch, blackthorn, hazel, hawthorn, elder, and rowan.  At only 0.07 hectares, the site may seem quite small to us adults, but imagine being 3ft tall and having a free roam of this secure, gated site?  I am going back several years before the Bobby Niven Palm House was erected on the site in 2017.  I visited Johnston Terrace with colleagues and children, taking with us food and drink, some rope and a tarpaulin, a few tattie peelers, and a strike a light. The sun was out and as soon as the children had refueled with some homemade bread and milk, they set off in all directions to play.  I remember spending a lot of that morning simply observing Jasmine.  There was a little fire pit, made from rough house bricks, where we would often toast marshmallows.  She knelt on the ground by this, running her fingers over the uneven surface, dragging them through the dirt and debris surrounding the base, just "feeling".  After a short while, she climbed the three wee steps to the meadow and headed towards the pond, where she bent over to scoop up some mud.  The area around the pond was great for mud.  It was almost clay-like in its consistency on the outskirts but became almost like a slurry the closer you got to the water.  Jasmine brought her spoils back over to the fire pit, where she began spreading it onto the brick, using her entire palm to press the mud against the stone. 
This process continued for a while, with return trips to the pond to gather more mud, both hands fully caked as she hid the brick surface from view through a layer of sludge.  Sitting back on her heels, she looked at her handiwork, idly picking drying mud from her fingers.  Gazing around, she bounced up onto her feet, this time heading in the opposite direction to the pond, where the bumble border met the trees.  Bending down, she began collecting different artifacts, leaves, red berries, and some rotting crab apples.  Carrying these treasures, she ventured back to the fire pit, where she began pressing her new findings into the mud.  The dark brown clag became peppered with red, orange, green, and browning yellow. Jasmine spent an hour, in blissful solitude, responding to the space she was inhabiting, truly being in the moment and just simply experiencing nature.  And I watched in growing admiration as I thought, "Who needs a glue stick?" 
Show all blogs