Glitter and true grit - starting a new job in a pandemic
By Jemma Slater
Show all blogs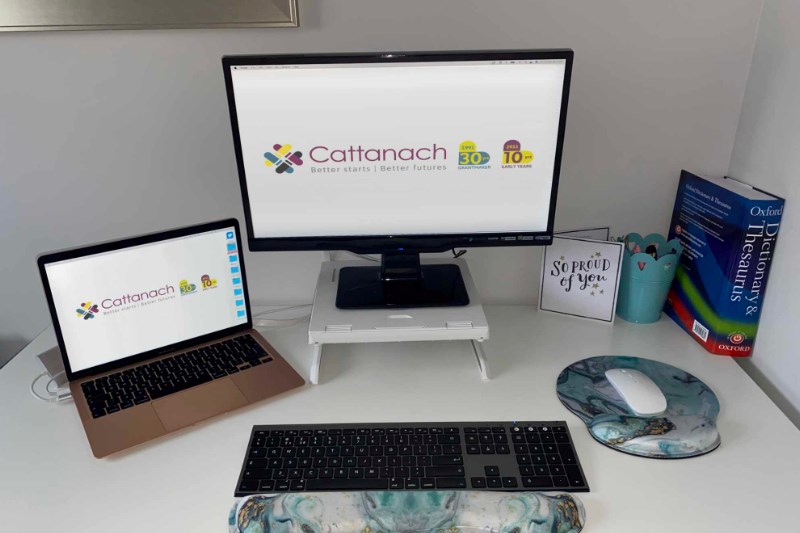 It's been 220 days since I was last surrounded by 20 hyper toddlers. I now find myself in a totally different environment, because  I started a new job in the middle of a pandemic and my working life has changed beyond recognition. All new jobs bring challenges and hurdles, but here are my experiences of the 9-5 during a national lockdown.
Everyone knows what the first day of a new job is like, butterflies, sweaty palms and the endless thinking about what your colleagues might be like. But this time, my very first day was so very different from anything I'd experienced before. The alarm was set for 8:00 am, but instead of a bus journey or a nerve-calming walk to the office, I spent that hour wandering around the house. My trip to the office was a short walk to the room next door to my bedroom.
My brain was doing cartwheels after having looked around the Cattanach website. I'd been settled in a cosy little private nursery in Portobello for so long that an organisation giving grants to charities all over Scotland felt like a whole new ball game.
Luckily my first ever zoom call was with Sophie (Cattanach Chief Executive) who, thankfully, was able to answer all of my questions. That initial chat set the pace - from then on the Zoom calls were endless, covering training, getting to know colleagues and charities.
I was so excited to bring my knowledge and experience from frontline early years work to a funder who supports services for wee people, but this was something so different. I can confidently support a child's development, change a nappy and even make a rocket out of toilet roll tube, but a funding application was something I found very daunting.
And yes, the change from a playroom floor to a desk is taking a lot of getting used to. I'm missing having glitter in my hair and the cheerful chaos of snack time but I'm definitely reassured that my current role is benefiting children all over Scotland.
It helps that Cattanach has guided me so well. Without the support and encouragement I have received from Sophie, I wouldn't be sitting behind my laptop right now smiling and proud saying, "I love my job."
I hope I've shown that I've got some true grit by rising to the remote working challenge because I'm usually a very hands-on kind of person. I love to see the smiles on a child's face when you compliment their family portrait before wiping the paint off their cheek or explaining (on repeat) why it's so important to share. I'm not doing that now, but I still love to hear all the stories of the amazing work charities are doing to support so many children in this country. It's wonderful listening to such passion and enthusiasm from volunteers, and I especially love hearing all the phenomenal outcomes these charities deliver for children.
Cattanach has helped me realise that I don't need to be on the playroom floor with children and families to be able to offer benefit to them. I can still do that by sitting in my spare room at my desk, contributing Cattanach's support to so many charities. However, I still hope to be back out there soon, visiting these brilliant charities and getting glitter stuck in my hair!
Show all blogs