COVID-19
Cattanach grantees are rising to the challenge
Show all blogs
Cattanach Grantees rise to the challenge of Covid-19
Over the last weeks, we have experienced radical and sweeping changes to our whole society as the UK battles the coronavirus pandemic. The roads and skies stand still as we are confined to our homes. But the needs of our most vulnerable children and families do not disappear - they have increased. Cattanach proudly funds 57 charity partners currently working across Scotland, from up in Inverness down to Dumfries, who work hard to support the youngest children and their families, with the newest additions joining us in February.
The 'lock down' has had an overwhelming impact on how our partners are able to deliver their work: They are no longer able to create physical community hubs for families to visit for Bookbug, Rhyme time or playgroups. Family Workers cannot work directly with families and children anymore, even if they are experiencing acute challenges. Yet, our partners have quickly mobilised and adapted. Some are preparing and delivering activity packs and food parcels; others are streaming online sessions so children can still see and be reassured by a familiar face. Phone and video calls have become a must to check in on families and make sure they know they are not alone. We are so proud that our partners have risen to the challenge of this crisis, joining Third Sector organisations across Scotland that keep working for the public good.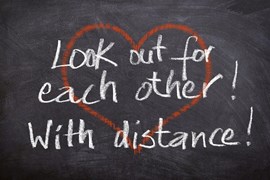 We are doing our best to work alongside our charities to find the best way forward. You can read our promise to our grantees and other Early Years organisations here. There is little doubt that the current crisis will mean constant change to find a 'new normal' for some time to come. It is our mission to make sure that the needs of the youngest in our society are not forgotten in this process. Their voices must be heard loud and clear. This is why we and 43 other children's organisations have signed a joint statement as the First 1,001 Day Movement to call on national and local leaders to address the needs of infants and young children and their families.
Now we would like to know: How have you and your organisations been affected by the coronavirus crisis? How are you adapting to this 'new normal'? What challenges are you experiencing? And what can we as a funder do to support you? Get in touch to share your stories – we would love to hear from you!
Show all blogs